Lug-Style


High Performance Butterfly Valves
---
Huamei Machinery offers Lugged High-Performance Butterfly Valves, which are available in Class 150/300/600 and PN16/25/40/100 pressure ratings. Our HPBFVs are also available with unique soft seat, metal seat and fire-safe seat, the body material can be Carbon steel (WCB), 316 Stainless Steel or others upon request. Valve connections can be lug type, wafer type or double flange type for customers to choose from.
Huamei
Lug Style

Butterfly Valves
---

---
---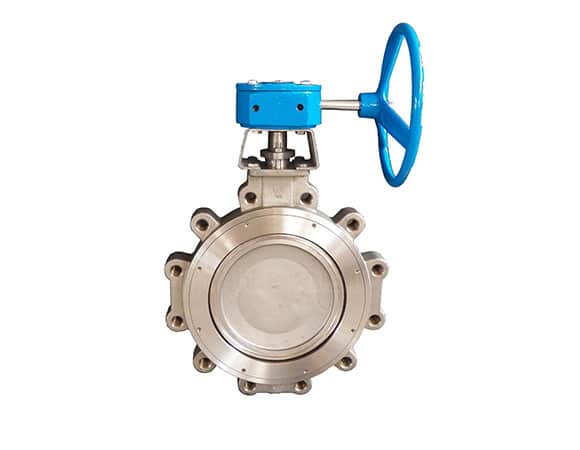 ---
A Lug Style Butterfly valve is a kind of butterfly valve with a body that has "lugs" or hole protrusions around its circumference that provides passages for bolts. The orientation of the lugs around the valve body is engineered in such a way that matches the holes in flanges connecting to pipes for ease of installation and alignment.
---
Normally, the Lug-Style Butterfly valve is sandwiched between flanges and two bolts opposite each other are to be inserted in each hole, securing the valve. Huamei offers installation services and testing before, during and after the commissioning stages that ensure safety and accuracy in mounting the Lug-Style Butterfly Valve in existing or new pipeline systems in manufacturing, chemical, pharmaceutical and power plant industries.
---
Huamei Machinery offers Lugged High-Performance Butterfly Valves, which are available in Class 150/300/600 and PN16/25/40/100 pressure ratings. Our HPBFVs are also available with unique soft seat, metal seat and fire-safe seat, the body material can be Carbon steel (WCB), 316 Stainless Steel or others upon request.
---
Construction of Huamei Lug-Style Butterfly Valve
How is it made/Manufacturing of Lug-Style Butterfly Valves
Huamei fabricates Lug-Style Butterfly Valve in a variety of materials of construction. The construction of the Lug-Style Butterfly valve ensures that the following are fulfilled:
Quarter-turn operation
Ability to perform as a shutoff valve
Restriction can be performed almost accurately
Allow dead-end service or removal of downstream piping
---
Furthermore, Huamei made certain that common valve problems are not left unanswered by designing and fabricating state-of-the-art Butterfly Valves, with extensive research and efforts of their in-house professionals, experts and engineers.
---
Lug-Style Butterfly Valve Basics
---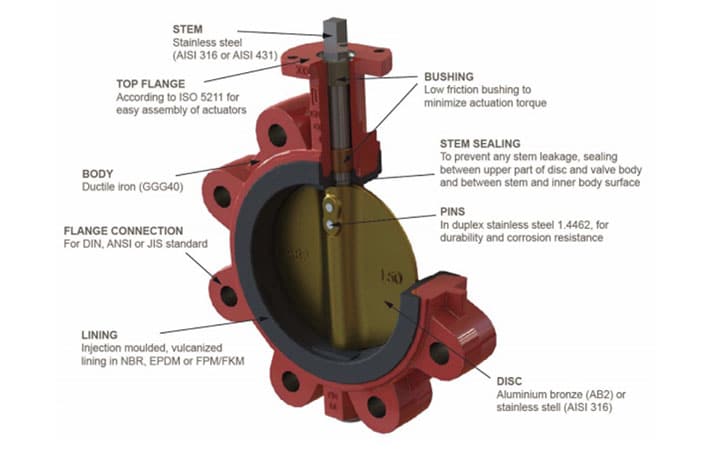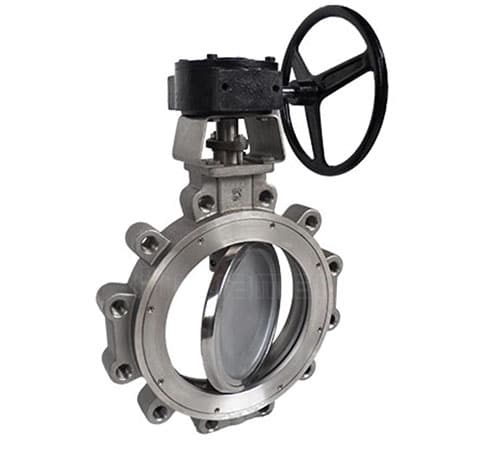 ---
Seat, Disk and Stem of a Lug-Style Butterfly Valve
Disk
The disk is the flow closure part of the butterfly valve, bored in the middle to receive the stem. The usual method of securing the disk to the stem is by bolts or pins.
Huamei, however, does an alternate method involving shaping the upper stem bore to fit a squared or hex-shaped stem. This method is advantageous in corrosive applications and ensures uniform sealing as the disk is allowed to float and seek its center in the seat.
Stem
The stem extends beyond the bottom of the disk and fit into a bushing in the bottom of the valve. Huamei designed different material bushings to suit differences in chemical properties of the media being handled by the valve. Stem seals are made of O-ring seals. For corrosive substances, Huamei designed the valve stem in such a way that it cannot be in contact with the material being handled. This is to protect the valve stem from degradation and possibly failing the valve system.
Seat
The seat utilizes an interference fit between the disk edge and the seat to provide shutoff. The material of the seat can be made from many different elastomers or polymers. The seat may be bonded to the body or it may be pressed or locked in.
In high-performance butterfly valves, the shutoff may be provided by an interference-fit seat design or a line-energized seat design, where the pressure in the pipeline is used to increase the interference between the seat and disk edge.
Plastic Seat
The most common seat material is polytetrafluoroethylene (PTFE) or reinforced PTFE (RTFE) because of the wider range of compatibility and temperature range.
Metal Seat
Metal seats are also offered in high-performance butterfly valves. These metal seats allow a butterfly valve to be used in even higher temperatures to 1,000 Degrees F.
Fire Safe Seat
Fire-safe designs are offered that provide the shutoff of a polymer seat valve before a fire, and the metal seal backup provides shutoff during and after a fire.
---
4 Valve Body Material Options with 3 Seat Design Types
Looking into the different materials used for the body construction of the Lug-type butterfly valve, a client may choose from either a stainless steel, carbon steel, hastelloy or titanium alloy valve body to suite his needs. Aside from this, he may choose various options for seat design such as soft seat, metal seat or fire seat.
Huamei Lug-Style Butterfly Valves all cover different ANSI Pressure Classes such as 150, 300, 600 and DIN ISO PN16, PN25, PN40, PN100. These are pressure-temperature ratings, materials, dimensions, tolerances, marking, testing, and methods also approved by American Society of Mechanical Engineers (ASME) standards designating openings for pipe flanges and flanged fittings for mechanical systems.
Confused on which type of Lug-style butterfly valve to choose? No worries! Through Huamei's years of experience and extensive research, you can be guided and assisted with incredible knowledge on valve types and common their applications, operation and maintenance and installation as will be summarized in this article.
---
How Lug-Style Butterfly Valve Works
The disk stands as the flow control element of the valve. It is approximately the same diameter as the inside diameter of the adjoining pipe.
The disk rotates on either a vertical or horizontal axis.
When the disk lies parallel to the length of the pipe, the valve is fully opened.
When the disk approaches the perpendicular position, the valve is shut.
For throttling, intermediate positions can be secured in place by handle-locking devices.
---
Lug-Style vs. Wafer Butterfly Valve: When to use each type
Both Lug-style and wafer design can be benefited when it comes to weight-saving. These are both lightweight as compared with other types of valve such as globe valve. However, wafer valves are lighter than lug-style as attributed by the number of lugs in the lug-type design.
Also, both valves are easy to maintain and maintenance costs are usually low attributed to the minimal number of moving parts and structurally speaking, they have no pockets trapping fluids. Unique advantages of Lug-Style Butterfly Valve are as follows:
Applicable for dead-end service.
Can be used as an isolation valve.
Compactness in design which requires less space.
Quick in operation requiring less time to open or close.
Available in a variety of sizes.
Low-pressure drop
High-pressure recovery
Easier to clean, inspect, repair, or replace and plant shut down is not required as with wafer valves.
Huamei butterfly valves are generally manufactured in compliance with the "Pharmaceutical Quality/Manufacturing Standard", cGMP (current good manufacturing practice) guidelines.
---
Where to Use Lug-Style Butterfly Valves
Lug-Style Butterfly Valves are typically well-suited in handling large flows of liquids or gases, such as slurries or liquids with large amounts of solids, at relatively low pressures. Typical applications are as follows:
Air Circulation
Balance of Plant
Bulk Storage
Bulk Conversion Other
Compressors
Conveyors
Cooling Water
Cruise Ship
Facilities & Process Utilities
Blowers
Request A Free
Quote
---

---
---
Contact info.
---
Huamei Machinery Limited
Address: Economic and Technological Development Zone of Ningjin County, Dezhou City, Shandong, China 253400
---
Tel: +86 (0) 532-84688512
Fax: +86 (0) 532-84688513
---
Email: sales@huameimachinery.com
---
We look forward to hearing from you for the in-depth communication on how to fulfill your Valve requirements.