Butterfly valves control fluid flow in a pipe by using a disc attached to a central shaft. This disc controls the amount of fluid passing through the valve by creating a variable opening.
Butterfly valves can be classified according to the alignment of the disc with respect to the valve body:
Zero offset,
Double offset, and
Triple offset.
Majority of butterfly valves with plastic linings are zero offset. Those that are made of metal and some with rubber lining are either double or triple offset butterfly valves. If you're really interested and want to have a solid grasp of butterfly valve types, components and major parts, you can read our ultimate guide for high performance butterfly valves.
In this article, however, we will only discuss what a double offset butterfly valve. Let's start with the differences between the aforementioned butterfly disc alignment types.
Differences Between Zero, Double, and Triple Offset Butterfly Valves

Zero Offset Butterfly Valve (Concentric)
Disk Alignment
The disc and stem of zero offset butterfly valves are situated at the center of the valve seat which is centered in the valve body. The disc rotates on the central axis which allows a 360° rotation. A sealing is done when the disc deforms the soft seat causing full friction during the whole operating cycle.
Common Applications
Zero offset butterfly valves are common in liquid and gas applications under 250 PSI and up to 400° Fahrenheit. These valves are able to handle food, coatings, chemicals, abrasive, and some solid applications.
A notable advantage of opting for zero offset valves is that the flowing media on the valve is not going to get into contact with the body because the valve seat is covering it.
Double Offset Butterfly Valve (Double Eccentric)
Disk Alignment
Double offset butterfly valve is popularly known as a high-performance butterfly valve and has two offsets from the valve body's center:
The shaft axis is offset from the disc's seat and body seal's centerline, and
The shaft axis is eccentric to the pipeline's/valve's center line.
The position of the disc in a double offset butterfly valve creates a cam action when the valve operates. The seat is lifted from the seal which results to the occurence of friction on the first 10° and final 10° of the opening and closing operations.
Common Applications
Double offset butterfly valves are best suited for pressures higher than zero offset butterfly valves can handle.
Triple Offset Butterfly Valve (Triple Eccentric)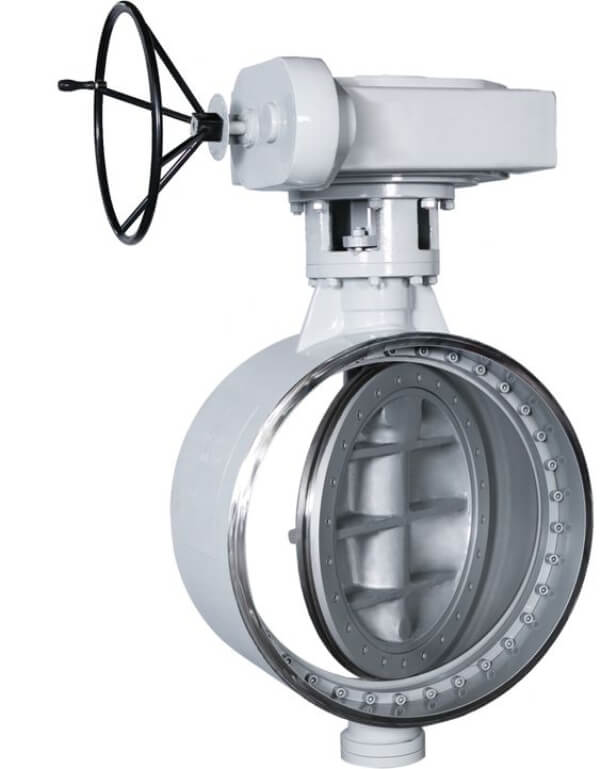 Disk Alignment
A triple offset butterfly valve has three offsets two of which are the same as the double offset butterfly valve. The third offset is on the geometry of the valve's seating surface instead of the shaft position.
The components of the sealing are machined into the valve to create a conical profile of the valve seat and disc. The disc only gets into contact with the seat in the first and last 1° of the opening and closing operations.
Common Applications
Triple offset butterfly valves are used in applications similar to double offset butterfly valves but are preferred in tighter and more demanding applications.
High-Performance Double Offset Valves
Double offset butterfly valves are widely known as high-performance butterfly valves. They are one of the most available eccentric-type butterfly valves in the market aside from triple-offset ones. Additionally, they are also called the elite type of butterfly valves.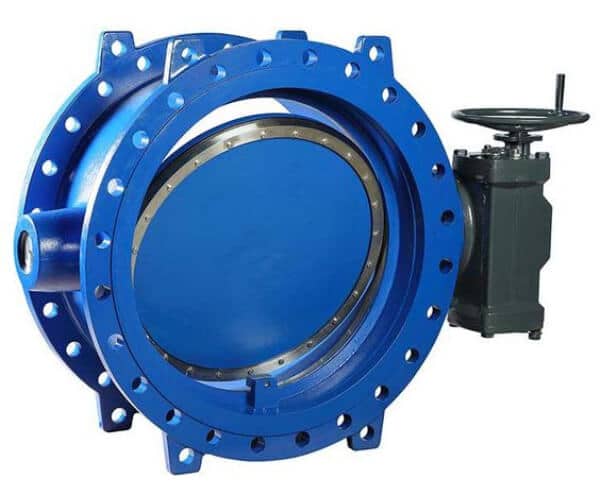 Material Composition
Double offset butterfly valves can be found in higher pressures compared to zero offset ones. They are made from materials with ANSI Class ratings of up to 600 such as Hastelloy, stainless steel, carbon steel, and others. Their rigid Polytetrafluoroethylene (PTFE) seats (ANSI class 3000 butterfly valve), usually from Teflon, can be varied and they also come in Fire Safe designs with metal seats as back ups.
Major Components
Double offset butterfly valves have the following major components:
Body,
Seat,
Seat retainer,
Disc,
Shaft,
Shaft packing,
Operator, and
Bearings or bushings.
Body Types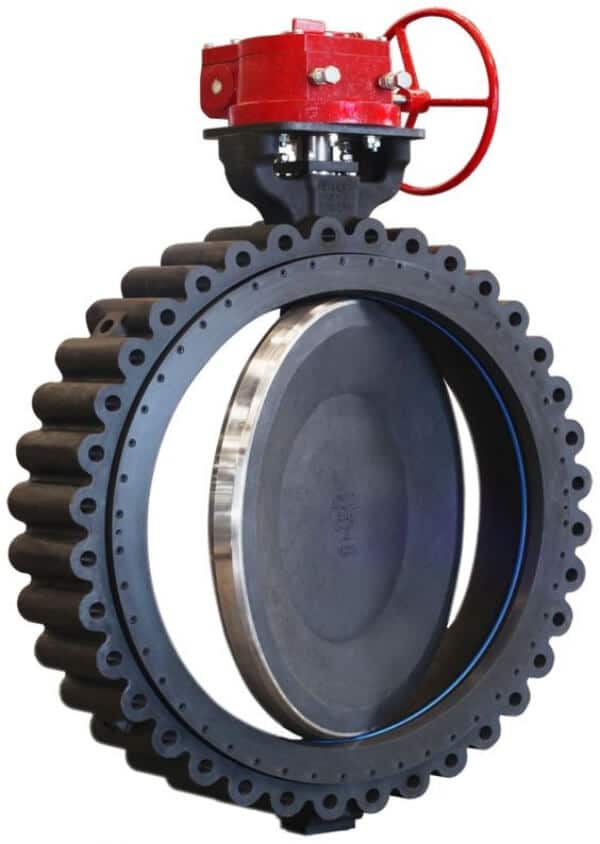 High-performance butterfly valves are available in three basic body designs:
Wafer,
Lug, and
Double flanged.
Wafer
Wafer body types has two or more holes for easier installation. They are cheaper and lighter but cannot be installed at the end of pipes or as end-of-line services.
Lug
Lug-style double offset butterfly valves have bolt holes where pipe flanges can be connected. Their threaded bolts on the whole area makes them a better option. This is because wafer valves users can switch to a lug valve design but not the other way around.
Unlike wafer types, lug types can be used at the end of pipes or as end-of-line services. However, because of some body materials that have lower strengths, the threads of the lug are weak. This results in bolt torque ratings that are lower compared to water.
Double Flanged
Double flanged types have a pair of flanges on the sides of the butterfly valve. This body design are common in large valve sizes. Some manufacturers use U-shaped valves which are more affordable but the flanges aren't always parallel which causes problems when bolting on the flanges of the pipe.
Operation
High-performance double offset butterfly valves can be operated using gears, handles, or actuators. They move the disc of the valve to its optimal position to fully seal or open the valve during operation.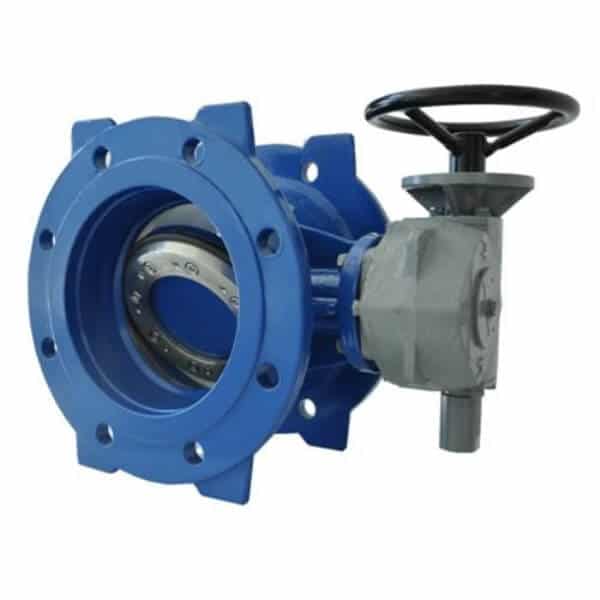 Moreover, operation by actuation can use either one of the three types of actuators:
#1 Electric actuator
Electrically-operated butterfly valve convert electrical energy into torque. An electrical motor that is mechanically connected rotates a screw and a threaded ball nut with threads matching those of the screw is kept from rotating with it. The nuts move along the threads once the screw is rotated. The direction of the nut movement depends on the direction the screw has rotated.
#2 Pneumatic actuator
Pneumatically-actuated butterfly valves are air-driven or air actuated. A pneumatic linear actuator has a hollow cylinder with a piston inside. A pneumatic pump or external compressor drives the piston. The cylinder will move along the piston's axis to create a linear force as the pressure increases. The piston will return to its default position when a fluid or other force is applied to the opposite side of the piston.
#3 Hydraulic actuator
A hydraulic linear actuator operates similar to a pneumatic actuator but rather than a pressurized air, an incompressible fluid supplied by a pump drives the cylinder.
If you want to know more about the advantages and disadvantages of each actuator type, you can read this article.
How Double Offset Butterfly Valves Work
The movement of a double offset butterfly valve follows a conic profile in sealing the valve. The arrangement of the offsets of the disc and the shaft generates a cam action of the disc into the seat, reducing the required torque to close or open the valve.
This offset geometry also allows the 90° rotation of the disc to get into contact with the seat on the first 1° to 3° of rotation only. Moreover, the design of double offset butterfly valves minimizes wearing at the touch points of the seat and disc which happens in conventional butterfly valves.
For a more detailed explanation on how a double offset butterfly valve works, you can go to this video:
Applications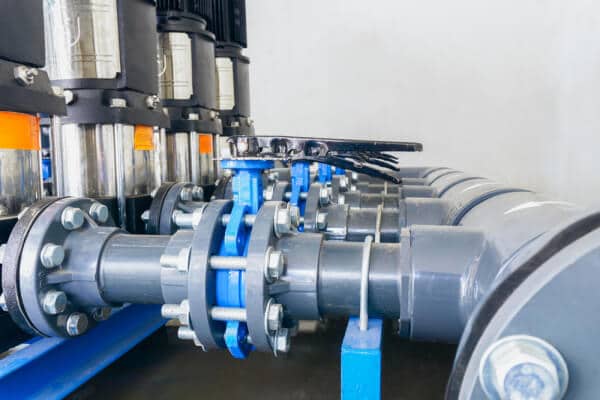 High-performance double offset butterfly valves are popular because they can be used in a wide range of applications. They can survive extreme pressures and temperatures and are suitable for handling gas, oil, steam, and water in a light weight and cost-effective design compared to triple offset butterfly valves.
The corrosion resistance and design strength of double offset butterfly valves allow them to be used either as buried valves or as parts of plants. Below are some of the most common applications and industries that use these kinds of butterfly valves.
Caustic,
Corrosive,
Dry Chlorine,
Oxygen,
Seawater,
Sour Gas,
Steam,
Toxic
Ultra Pure Water,
Vacuum, and
Industries
Chemical,
Food and Beverage,
HVAC,
Mining,
Oil and Gas,
Petrochemical,
Pharmaceutical,
Power Generation,
Pulp and Paper,
Refining,
Sugar Processing, and
Water Filtration.
Conclusion
Industrial valves have higher requirements regarding pressure and temperature ranges compared to traditional butterfly valves. This gave to the rise of high-performance butterfly valves that can handle high pressure and high temperature, one of which is a double offset butterfly valve.
Huamei, a high performance valve manufacturer in China, has just what you need. We offer double offset butterfly valves along with other industrial valves in various material body, disc, seat, and end-type connection designs. For more information, you can explore our website or reach out to us.