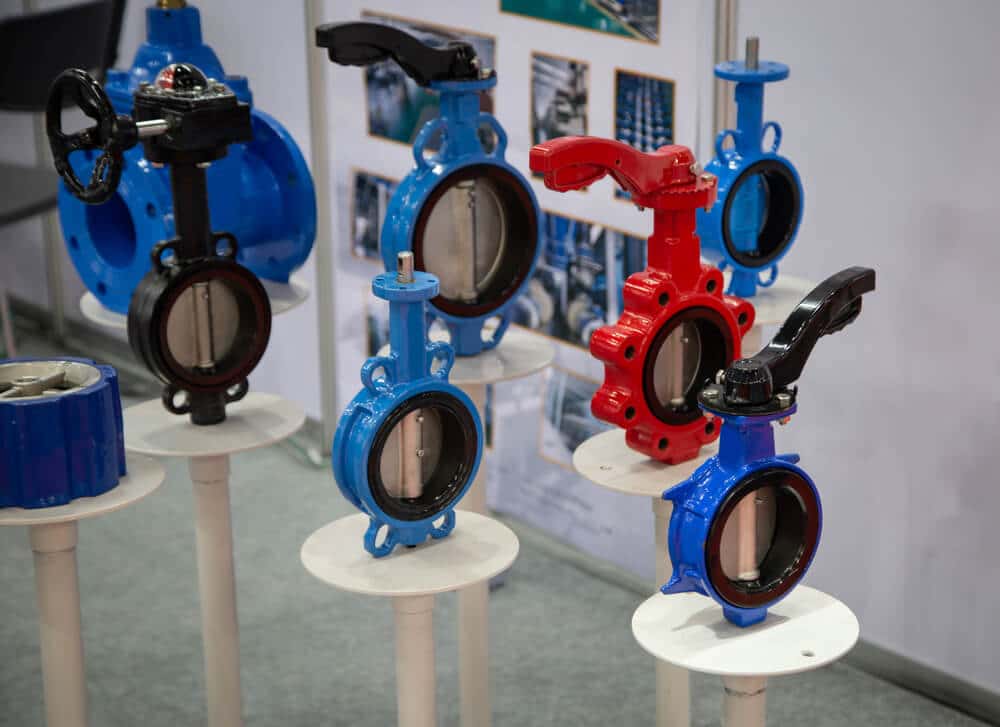 Before we get into the types of butterfly valves, let's have a recap on what it is.
A high performance butterfly valve is a quarter-turn valve which consists of metal disk rotating about the circumference of a circular pipe. It is equipped with a shaft that operates the vane through multiple ways. It can be through a packing from a pneumatic actuator, an electric motor, a solenoid or a hydraulic piston and cylinder. Either way, this type of valve is easy to handle and is more affordable than other types of valves.
In this guide, we will run through some basic features and know-hows of the butterfly valves before we dive right in to its different types.
Contents of this Guide
Features
A distinct feature of a butterfly valve is it can cope with high-pressure recovery, but can only accommodate low-pressure drops. This is true especially when it's function is to handle large amounts of liquids or gases at low pressure differentials, such as in a hydroelectric power plant MIV system. Hence, depending on your application, it need not be opened more than 60 or 70 angular degrees from its closed position.
Overall, you can use butterfly valves in a wide variety of industrial applications for throttling, flow control, and pressure control purposes. You may also choose from sizes 2 to 60 in.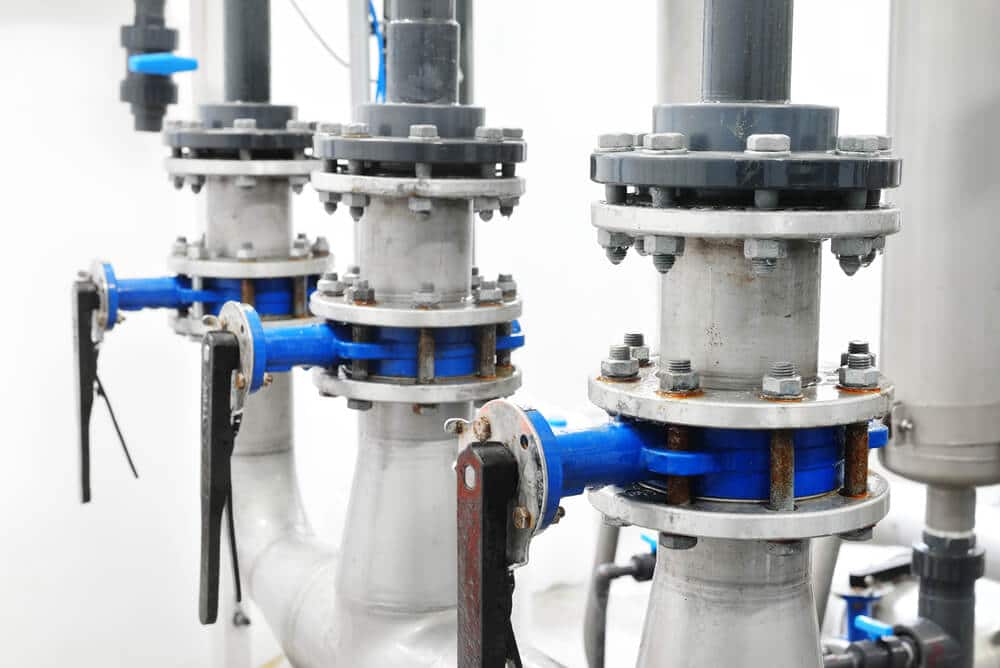 Selection Parameters
Butterfly valve manufacturers usually labels valves according to their maximum pressure and temperature. High pressure valves are also available for piping applications requiring high pressure. The wetted parts in a valve should also be known.
When you choose a butterfly valve, check the rating. The maximum pressure in your system should be lower than the rated maximum temperature and pressure of the valve. Also, the wetted parts should be compatible and in contact with the fluid being measured.
Some pertinent valve specifications to ask the manufacturer are as follows:
Valve body material
Valve plate material
Valve seat material
Valve diameter
In addition to that, as a designer or engineer here are some things you should look into before choosing a butterfly valve type:
Specific gravity, viscosity, material content, composition (gas sieve service).
Flow rate
Piping moments (flanged valves)
Pressure
Pressure drop or required Cv (maximum)
Max/min temperature
Media Limitations
Butterfly valves are suitable for large volumes of liquids and gases, but not for fibrous suspensions and dry bulk solids as they can erode the valve body.
Liquids can be:
Neutral
Corrosive
Hygienic
Slurry
Gases can be:
Generally speaking, butterfly valves are advantageous in terms of weight, cost and space. Plus, they are more suitable for handling large industrial valve applications as compared with globe, gate, plug and ball valves.
Butterfly Valve Types by End-Connection Styles
The end-connection of the valve body is the most common classification for butterfly valve types. Basically, the most popular there is are the wafer and a semi-lug and lug type valves, but there's also the flanged butterfly valve and butt welded type.
Both Flanged Ends
Wafer Type Ends
Lug Type Ends
Butt Welded Types Ends
#1 Lug-Style Butterfly Valve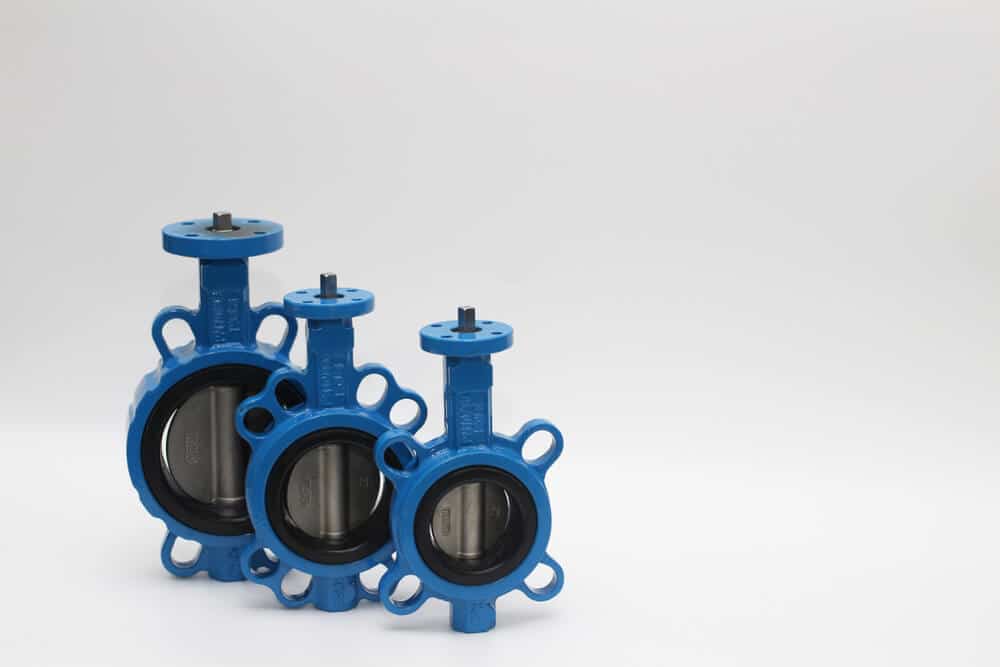 The lug butterfly valve has threaded "lugs" or inserts around its circumference that permit for bolt passages. An individual hole allows installation of two sets of bolts without a nut. The lugs provides an easy way for alignment of the two flanges sandwiching the lug valve during installation. Hence, with this configuration, it is pretty easy to disengage one area of the pipe without removing the whole valve installation.
A Lug-style valve is a versatile solution for chemical handling that can withstand high temperatures of up to 200 °C.
Dead End Service Butterfly Valves
Dead end service means the valve's downstream flange is removed. For this application, a lug style butterfly valve should be used. A lugged valve has the ability to maintain a reliable body connection even without a downstream flange. Only the upstream flange provides the right amount of pressure while in service, but generally, a lug style used in dead end service should have a lower pressure rating.
Lug Style Application
Flanged at both ends
Dead end service purpose
Pressure for the same valve at different application
1,000kpa (150psi)
520 kpa (75psi)
#2 Wafer Butterfly Valve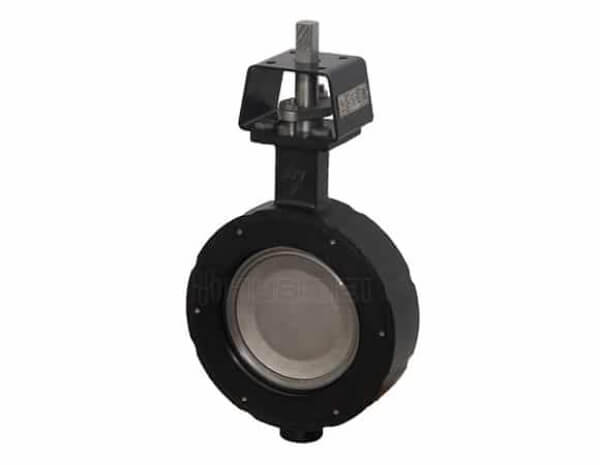 The main purpose of Wafer Butterfly Valves is to maintain a unidirectional pressure or positive pressure. Also, because of its cheaper price and easier installation procedure, many prefer this type of valve where it is economical and where other types of valve prices are out of the question. Wafer butterfly valves have a flexible seal that protects the system from backflows which occurs when bi-directional pressure occurs.
Since this type of valve does not have holes for bolting, flanged pipes with bolts secures the valve body to its place. Hence, wafer butterfly valves are easier to install than lug style, but valve and flange alignment can be more difficult.
#3 Flanged/Double Flanged Butterfly Valves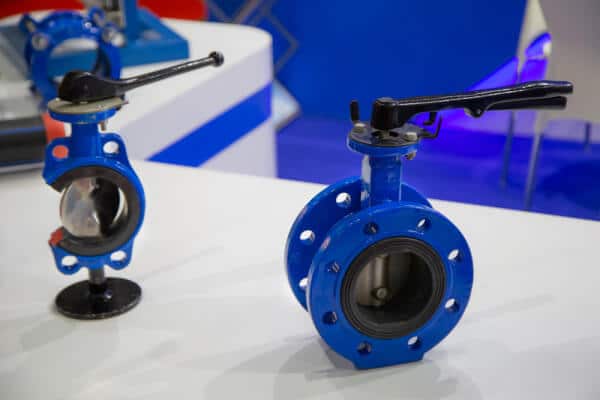 Double Flanged Butterfly Valve has a flanged body and raised rims to allow its installation between two flanged pipes with the same dimension as the valve. This type of valve is used for heavy applications where its strength and rigidity can be benefited.
Double Flanged butterfly valves are used for controlling, regulating and throttling flow. It is considered as one of the most resilient seated valve design for dead-end service. You can use this type of valve as shut-off device because of its installed gear box which functions to control the disc in varying positions.
#4 Butt Welded Butterfly Valve
Butt welded butterfly valves are directly welded in the pipeline for high pressure applications.
Butterfly Valve Types by Seat Design
Seat designs for high performance butterfly valves can be varied depending on the application and budget. Generally, there are two types: soft seated and metal seated. Soft seated butterfly valves uses rigid PTFE (teflon) and are generally lower in price than metal seated. On the other hand, fire seated valves are manufactured with an extra layer of protection.
#1 Soft Seated PTFE
Polytetrafluoroethylene (PTFE) or commonly known as Teflon is a synthetic fluoropolymer that is highly resistant to chemicals as compared with other plastics. Plus, PTFE lined seat has a low coefficient of friction which makes it ideal for low torque applications. Since it is nonreactive, resilient or soft seated PRFE butterfly valves can be used for food manufacturing applications. Handling temperature ranges from -100°F to +450°F.
#2 Soft Seated RTFE
Reinforced Polytetrafluoroethylene (RTFE) or reinforced PFTE or reinforced Teflon is a valve seat material which is blended with filler compounds to provide additional compressive strength and prevent abrasive wear. It also has a low frictional coefficient that makes it resistant to abrasive wear. As compared with PTFE, reinforced PTFE butterfly valve can be used for high pressure and temperature applications. Temperature capabilities ranges from -320°F to 450°F.
Inconel 625 is generally stronger than stainless steel and keeps its tensile strength even at higher operating temperatures. Also, they can withstand high temperatures than stainless steel. For this reason, Inconel butterfly valves are used for applications requiring heavy duty seats such as in handling bulkier fluids.
On the other hand, Stainless steel butterfly valves can be used in processing corrosive substances as they have a higher resistance to corrosion than inconel.
So, it would depend on the application of the butterfly valve when you choose between inconel and stainless steel.
Butterfly Valve Types by Body Material
Butterfly valves are also available in many types of materials and combinations of materials for the body, disc and seat. Body material selection can be based on what type of fluid is to be shut-off, the temperature and pressure of the medium and system. The following are some of the materials available for butterfly valves.
Carbon Steel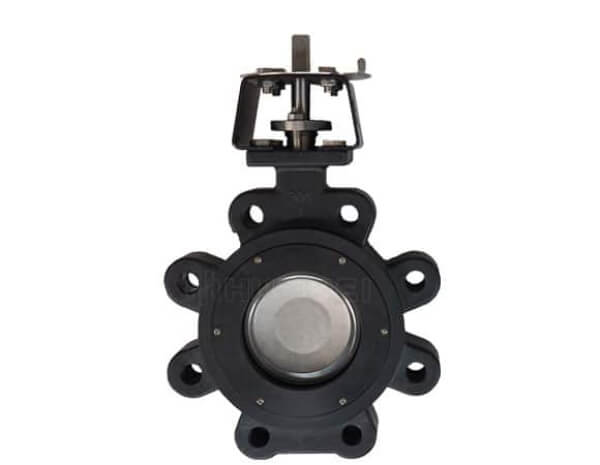 Carbon steel is a combination of carbon alloy and iron. In terms of cost, carbon steel is relatively cheaper than other types of butterfly valve material, but it cannot be used for corrosive applications.
Key Specification Standard
This material is covered by ASTM A216 standard (WCA, WCB, WCC), ASTM A352 LCB/LCC and ASTM A351 CF8/CF8M.
How are these grades different?
For carbon steel butterfly valves, the most popular grade for body material and disc is the WCB and LCC Steels. While WCB high performance butterfly valve is used for high temperature applications, LCC valves or cast steel is used for low temperature services.
Stainless Steel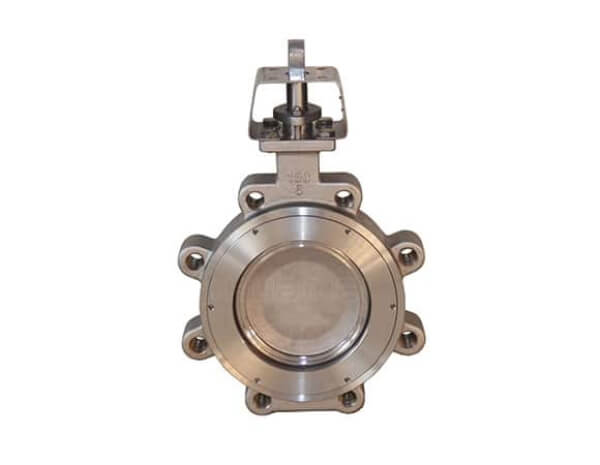 Stainless steel butterfly valves specialize in corrosive piping applications. As the stainless steel material is a combination of iron, nickel, chrome (10.5%) and sometimes Molybdenum, it possesses both strong acid endurance and strength of steel.
When the butterfly valve body is scratched, for example by small metals that are not sifted in the preliminary processing stages, the chromium content battles with oxygen so as to prevent it from rusting. There are many types of stainless steel from 300 to 400 series, but 316L is preferred for butterfly valve.
Stainless steels can be austenitic, ferritic or martensitic. The most recent classification is precipitation hardenable and duplex.
Basically, the alloying content for chrome, nickel, molybdenum are varied by percentages to produce specific structures and properties. Hence, different types of stainless steel butterfly valves material respond to different applications but distinct features such as corrosion resistance and machinability are universal for all stainless steel types.
Austenitic Stainless Steel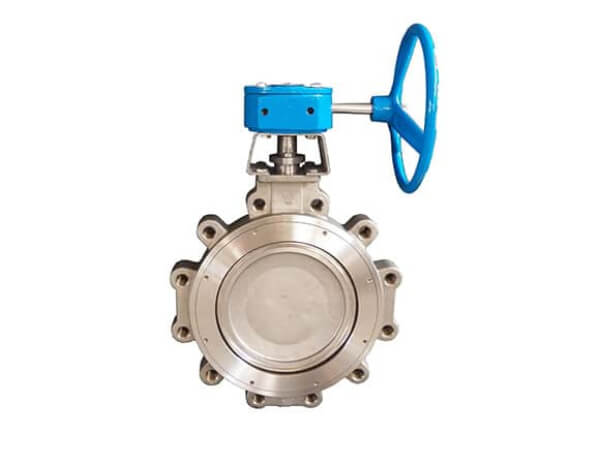 Basically, austenitic stainless steel valves are used for low temperature applications such as in cryogenic processes. Austenitic SS316L butterfly valves contains high amounts of chromium and nickel with low carbon content.
Nickel helps in maintaining a face-centered cubic (FCC) structure in stainless steel at very low temperatures preventing unwanted transformation to body centered cubic (BCC) arrangement.
In cryogenic applications, the butterfly valve experiences compressive stresses as temperature levels are decreased.
The FCC structure have more slip planes as compared with BCC structure, making it more flexible for relieving compressive stresses. So during plastic deformation at freezing temperatures, the FCC structure presents the material with a suitable amount of ductility and toughness for cryogenic applications.
Furthermore, the molybdenum content helps resist pitting.
Duplex Steel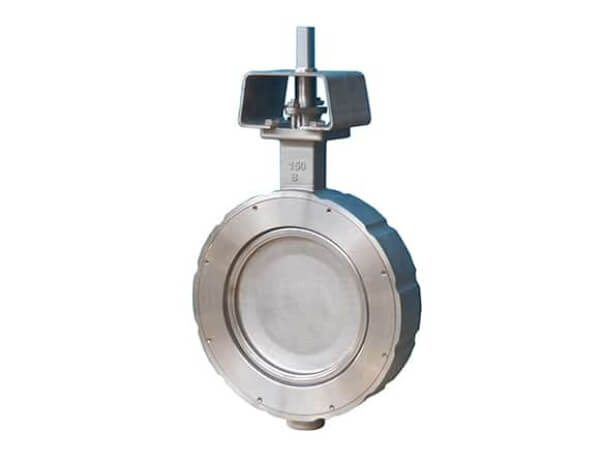 Duplex stainless steels butterfly valves can be available as wafer style or lug style, with a soft seat or metal to metal seat. For duplex stainless steels, there is a balanced structure between the FCC and BCC arrangement of material component. Specifically, the austenitic to ferritic part is about 50-50, composing of increased levels of molybdenum and chrome.
As such, duplex stainless steel valves are used for larger pipelines where higher strength and rigidity is needed in combination to the toughness offered by austenite.
Titanium and Titanium Alloys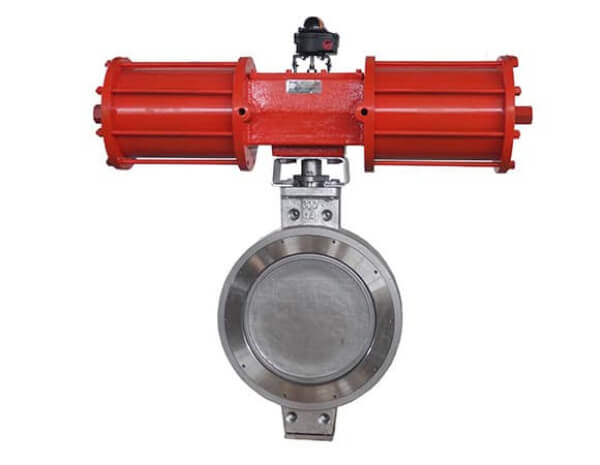 If you are looking for the strongest industrial butterfly valve, Titanium alloy valve makes it at the top of your options. This type of valve has the highest strength-to-weight ratio as compared with other metal valves. It is lightweight and corrosion-resistant.
Titanium alloyed valves are coated with a layer that protects it from hypochlorite so its usual application is for carrying out processes in seawaters.
However, this type of valve comes with a higher price but with greater promises as compared with other types. Huamei offers this type of valve in wafer and lug.
Nickel Alloy Steel (Hastelloy)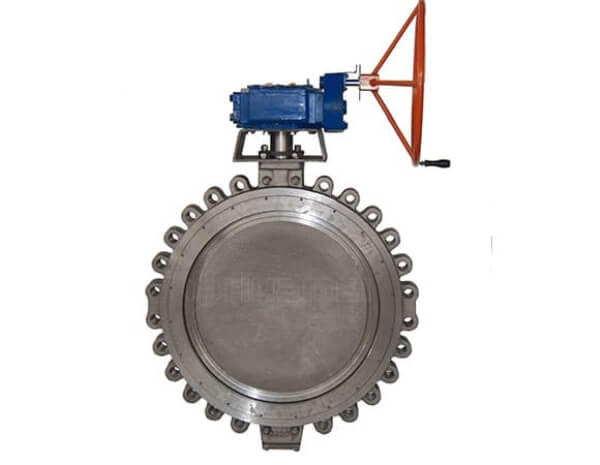 Nickel alloy butterfly valves are one of the strongest and most versatile types of valve. They are used in specific applications that require extreme resistance to fluid impact and high and low temperatures.
Also, Hastelloy, a type of nickel alloy valve, is suitable for severely corrosive fluids that stainless steel cannot bear.
Nickel Aluminium Bronze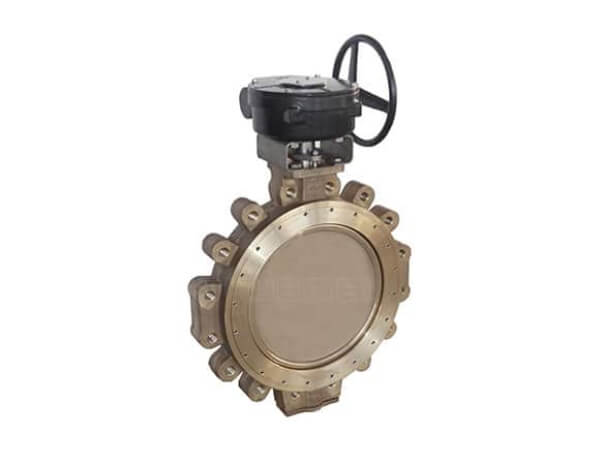 Nickel Aluminum bronze butterfly valves are corrosion resistant valves for seawater piping systems. A distinct feature of this valve is in prevents biofilm formation. Nickel aluminum bronze is a composition of 10% aluminum, 5% iron and 5% nickel.
Butterfly Valve Types by Offset Design
Butterfly valves API 609 can be classified according to their offset design. Typically, those that have soft seats are concentric or lined type, while metal seated valves have eccentric designs. They can also be fire-proof seated butterfly valves.
Generally, there are three designs for offset designs available:
Concentric disk, lined type
Double Offset Butterfly Type
Triple Offset

Zero Offset/Concentric Disk (A609 Type A)
Concentric disk valves have their seals line against the edge of the elastomer lining which ensures tight shut-off. The stem is mounted in a vertical axis at the center of the disk.
Concentric Disk butterfly valve are suitably designed with the following points:
Used for applications not exceeding Class 150 rating (120°C), which depends on the seal material.
Cannot be used for hydrocarbon application service.
Cannot be used for undemanding water transports.
Cannot be used in conjunction with corrosion resistant piping applications.
Lined valves are economical for corrosive services, but prone to damage of the lining (especially around the shaft penetrations) leading to consequent rapid corrosion of the body.
Elastomer should be vulcanized to the body.
Not for sticky liquid applications.
Should have self-locking gearing.
Double Offset (API 609 Type B)
The Double Offset or Double Eccentric Valve is a high performance butterfly valve which is designed with two offsets of the stem. The movement is calculated with a specific cone profile to address shut off of high pressure applications.
In the first offset, the vertical shaft axis positions itself further backwards from the point of sealing (disc to valve seat).
In the second offset, the shaft axis goes off the center of the pipe.
Recommended for use in Class 150, to Class 600 Rating.
Recommended body material: carbon steel, stainless steel, Hastelloy.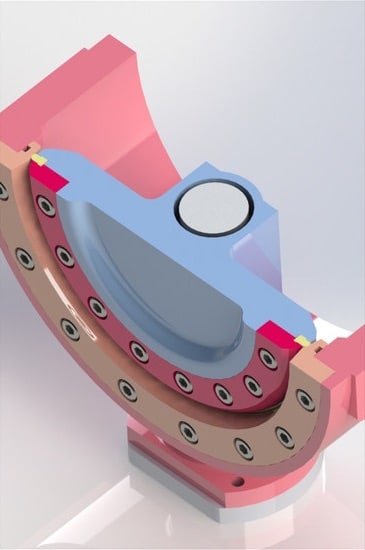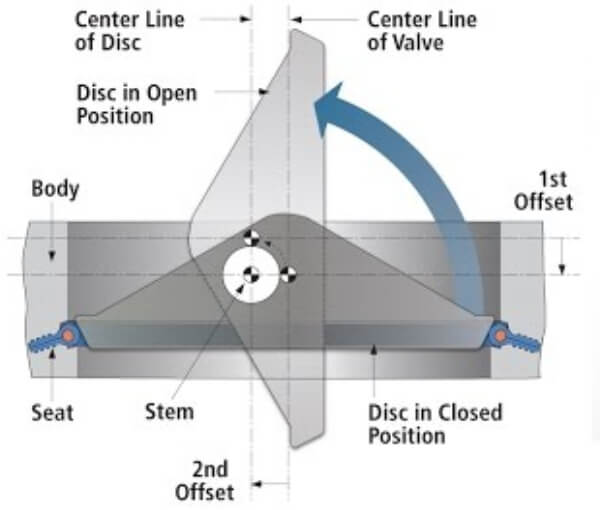 Triple Offset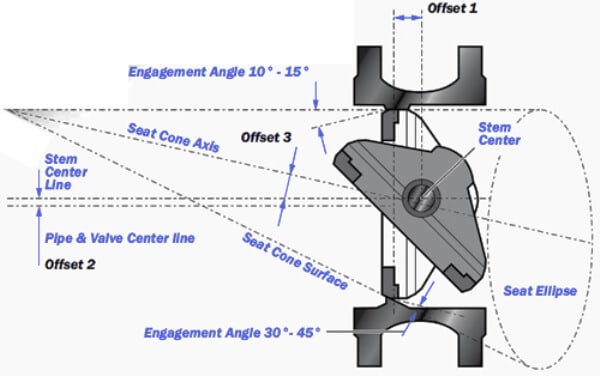 There are three offsets for triple offset butterfly vavles all mounted eccentrically. This helps provide a tighter seal. In this type of valve, there is a combination of the double offset design and an additional offset of the disk seat axis.
With the triple offset design, sliding between the seat and disk can be eliminated.
Recommended for high or low temperature.
Recommended for Class 150 to Class 600 Rating.
Butterfly Valves According to Mode of Operation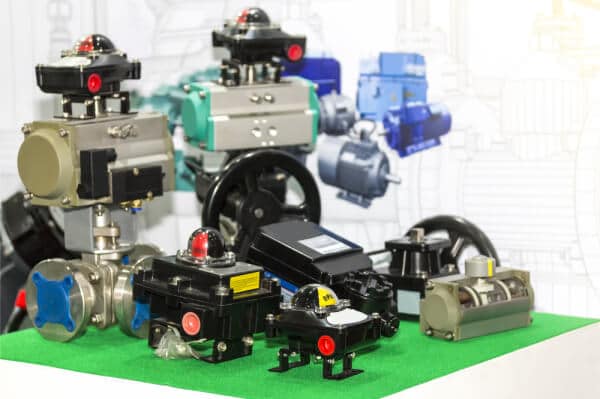 There are also numerous ways to operate butterfly valves, starting from the very basic method of using a handwheel. Choosing which type of actuator to mount on the butterfly valve depends on the specific needs of your system.
This may be dependent on the amount of torque needed to open and close the valve or the speed at which it must operate. Also, it should be considered if the system needs automatic actuation or can simply be mechanically actuated.
Electric Butterfly Valves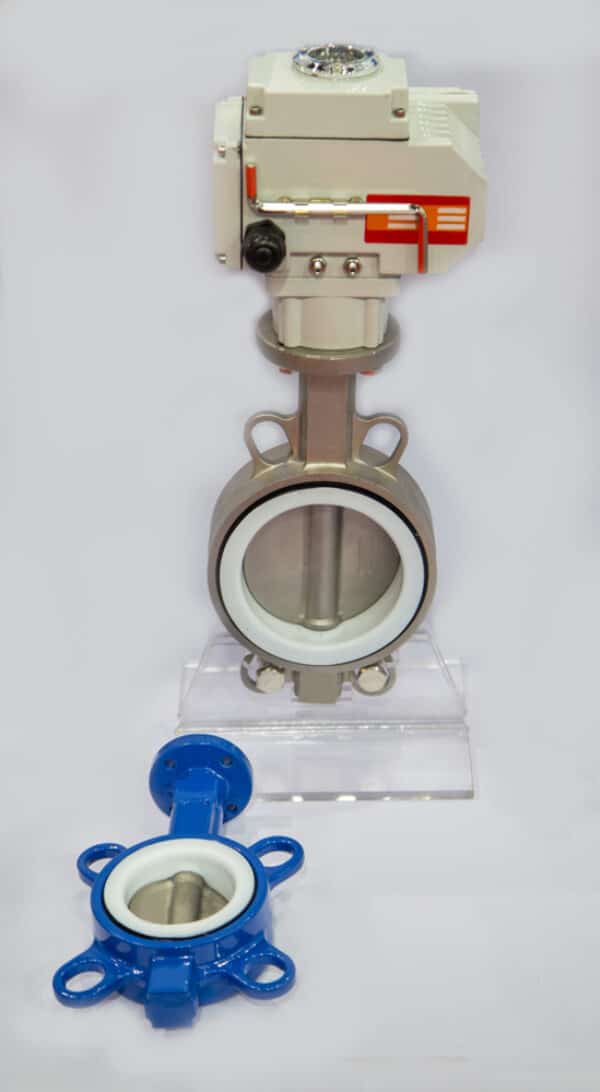 These types of valves use an electric actuator for operating the valve in an open and close position.
Electric-operated butterfly valves can be operated manually, semi-automatically or automatically. As such, you can easily operate the valve remotely. It is one of the most reliable solutions for large plants and applications.
There is also a limit switch that controls the automatic operation of the valve:
Pneumatic Butterfly Valves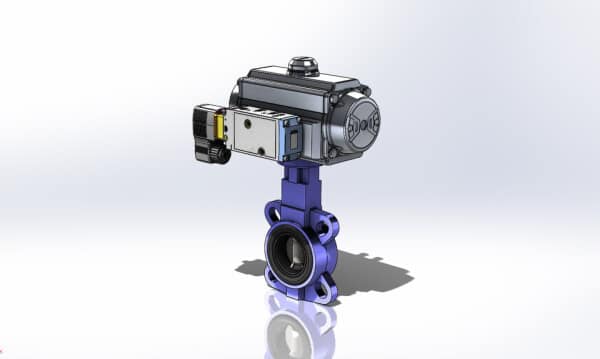 Pneumatic actuators are used to operate these types of valves for shut-off pipelines. Pneumatic Butterfly valves are typically used for transferring compressed and pressurized air.
Again, these types of valves can be automatically or semi-automatically operated. The design is quite simple. A certain pressure range is set in the system. When the system detects that its about to exceed the air pressure, a diaphragm modulates the opening and closing amount of the butterfly valve. Pneumatic Valves can be used for throttling or as throttle butterfly valves.
It doesn't use a limit switch like the electric-operated butterfly valves, but instead, uses the following for operation:
Spring-Return
Double Acting
Hydraulic piston and cylinder or hydraulic actuator butterfly valves
These types of valves are used for applications requiring huge impacts or force for opening and closing the valve.
The force of the fluid over a pipe changes the pressure in the system, creating an impact on the spring force of the hydraulic actuator. The butterfly valve opens when the pressure of the fluid is higher than the set value. It then closes when the downstream pipe needs to be bled.
Hydraulic actuators can be operated semi-automatically or automatically.
Manually Operated Butterfly Valves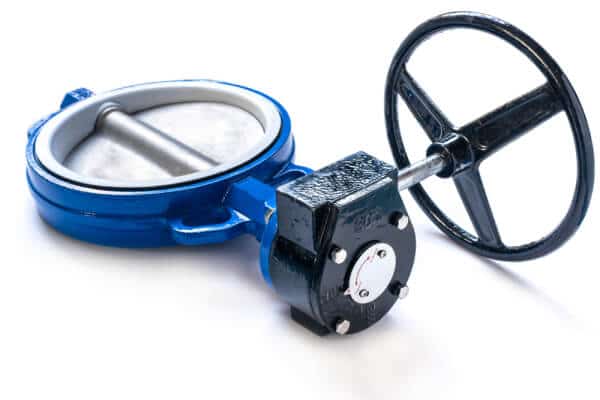 These types of valves are manually operated through a hand-wheel or crank. Hence, they are not automatic. Manually operated valves are used in the old times and where areas doesn't have power for valve operation.
Butterfly Valves According to Application Specifications
AWWA Butterfly Valves – These are valves as specified by the American Water Works Association. These types of butterfly valves are used to process potable water.
What are the International Standards for Choosing Butterfly Valve Types?
Valve manufacturers use international standards as reference for valve designs for global use. To name some of the organizations providing these standards, here are some listed below:
International Organization for Standardization
European Committee for Standardization
ANSI Valve Standards (United States)
BSI Valve Standards (United Kingdom)
CSA Valve Standards (Canada)
DIN Valve Standards (Germany)
EEMUA Valve Standards (United Kingdom)
JSA Valve Standards (Japan)
Conclusion
Butterfly valves are recommended for large volume applications of fluids for flow control control and in some cases, throttling.
In this guide, we have classified butterfly valves into many types as summarized below.
End-connection type: wafer, lug, flanged or double flanged, butt weld;
Seat material: soft (Teflon) or metal-to-metal (SS316 and Inconel);
Eccentricity or offset design: centric or zero, double offset or double eccentric, triple offset or triple eccentric;
Body and disc materials (Carbon steel, stainless steel, titanium alloy, nickel alloy, aluminum bronze);
Mode of operation or actuation: electric, pneumatic, hydraulic, manual.
Huamei is an OEM/ODM China manufacturer and exporter of high performance butterfly valves. We have in-stock high quality and superb-performance Flowseal and Bray butterfly valves equivalents, but we also cater customized butterfly valve design specification according to your country's application standards.
Sizes may range from 2 to 60 in and can generally accommodate saturated steam at 200PSI and 450PSI. You may also choose from a variety of materials, seat design and end-connection. Feel free to contact us for quotation.